How AUDIOVISIONS Took This Palm Springs Hotel into the Future
Guests at the Kimpton Rowan can now start their day saying, "Open the shades and play acoustic music,"—and the room will do just that.
Our team at AUDIOVISIONS proudly helped Josh.ai voice control and Ketra tunable lighting make their hotel debut at the Kimpton Rowan in Palm Springs, CA. With wellbeing and performance in mind, we installed a lighting control system, surround sound, voice control, and more to create an unforgettable guest experience.
Join us below as we dive into the Kimpton Rowan's new smart technologies. You may find some inspiration for your own business!
SEE ALSO: Luxurious Control4 Automation Ideas to Try at Home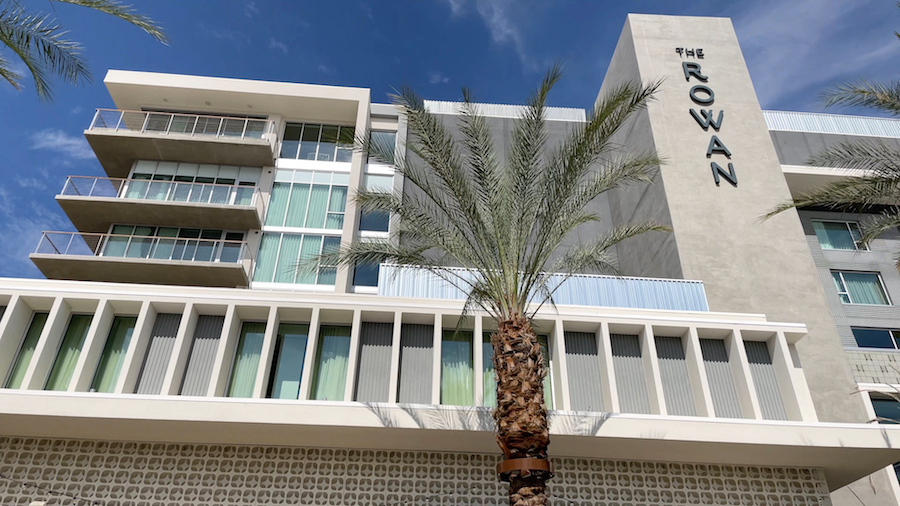 The Kimpton Rowan hotel in Palm Springs, CA
Josh.ai is unlike any other voice assistant on the market, and we were thrilled to bring Josh into its first hotel setting. Josh is specifically designed for smart home control, understanding natural language better than any other AI system. Josh is also the only voice assistant committed to privacy and data security, making it the smartest choice for the Kimpton Rowan.
In the hotel rooms, we programmed Josh with built-in hotel concierge responses. The Josh Micro device is mounted on the wall, ready for any voice commands—or a swift deactivation if guests would rather not use it.
In a Kimpton Rowan hotel room, the lighting is always set to the perfect mood. Ketra tunable lighting gradually adjusts the lights' color temperature and brightness to follow daylight's natural rhythms. Visitors can also play with the smart lights, setting them to any color, saturation, and brightness they'd like.
"We were excited that we had the opportunity to work with AUDIOVISIONS and their team on this innovative Kimpton-Rowan Palm Springs California hospitality project," says David M. Weinstein, Lutron's Vice President in Residential Sales. "Their experience and ability to install and integrate well-respected curated technology brands like Lutron and Ketra into these luxury guest rooms will allow the hotel guests to experience amazing lifestyle-enhancing amenities that can also be deployed into their private residences."
Lutron's smart shades provide seamless privacy or California sunlight in one tap on the bedside tablet—or voice command through Josh.ai. Guests can let the sunrise in from bed or schedule the shades to be their wake-up call.
Samsung's Frame TV
Wasn't there a TV there on the wall? Now it's turned into a piece of art. When the Samsung Frame is not in use, the 4K QLED screen transitions into a lifelike artwork. Then when it's showtime, hotel guests will be dazzled by the ultra-clear and bright visuals.
Is there anything better than returning to your hotel room and kicking back with some music or a movie on screen? We included a Sonos sound system in the hotel rooms so that guests can enjoy high-quality audio over immersive surround sound. They can search any genre, album, or song, and with Trueplay technology, the speakers are tuned for superior acoustics.
Ready to check into the Kimpton Rowan? We wouldn't mind spending a night! If you're interested in bringing automation, voice control, smart lighting and shading, and audio to your Palm Springs business, let us know!
Contact AUDIOVISIONS here or chat with a member of our team below. We'd love to help bring smart technology to your space!