A note from our Founder and CEO
I co-founded AUDIOVISIONS in 1989, during the infancy of the residential systems installation industry, and I am incredibly fortunate to still be leading the company more than 30 years later. AUDIOVISIONS has grown to become the largest luxury technology integration firm in California. With Southern California locations in Orange County, Los Angeles and Palm Desert, and a Northern California location covering the North Bay, San Francisco and Silicon Valley, we are never far away. Our nearly 100 talented and trained employees assure sufficient resources to effectively and efficiently handle your project.

While I am proud of our steady growth, it's not the size of our company or our growth that drives me. What drives me is building the best possible culture, environment and structure for our talented team to thrive and grow. Why? Because I believe happy, motivated employees generate delighted clients. And that is why we exist in the first place: We believe everyone deserves a better technology experience.

Our Company's three Core Values and Three Team Player Virtues inform how we hire, strategize, perform and reward. These are not aspirational values that we hope to achieve, or abide by only when convenient; these values form the nucleus of our culture. If you would like to learn more about our Core Values, click the link here.

So, while we have the resources of a large firm, we maintain the culture, personal attention and service of a small boutique. This combination of resources and individualized attention allows us to attend to your every question and need. Our ability to solve problems and generate ideas is facilitated by a team structure and culture that encourages a free flow of ideas from any team member, regardless of title or experience. And, our engineering-centric approach allows us to transform your vision into reality - without compromise. We look forward to serving you!
Mark Hoffenberg
CEO
AUDIOVISIONS
Mark Hoffenberg
CEO
Mark Hoffenberg founded AUDIOVISIONS in 1989, and led the company's rapid growth to becoming one of the nation's largest and most respected home automation companies. In 2005, Mr. Hoffenberg directed the acquisition of AUDIOVISIONS to Best Buy, the world's largest consumer electronics retailer. For the subsequent 9 years following the acquisition, Mr. Hoffenberg served as Vice President, Services for Best Buy while remaining President of AUDIOVISIONS. In 2014, he successfully navigated the re-acquisition of AUDIOVISIONS from Best Buy. Today, Mark leads a talented team of nearly 100 employees in four geographic markets from Orange County to the San Francisco Bay Area in California. He is responsible for the company's overall vision, business strategy, partnerships, ventures and key initiatives.
Read More
Much of Mark's energy is focused on the company vision, culture and organizational health - a term Patrick Lencioni, famous business author and consultant, defines as, "the single, greatest advantage any company can achieve." Mark has successfully infused Lencioni's principles of the "Ideal Team Player," and the structure of Gino Wickman's EOS (Entrepreneurial Operating System) framework into his company.

Mark believes in giving back and helping the industry grow. He has served twice on the CEDIA (Custom Electronic Design and Installation Association) Board of Directors twice and is currently on the Board of Directors of HTSA (Home Technology Specialists of America). He has also served on multiple industry dealer advisory boards, including Sonos, Savant, Sony, Josh.ai and Niles.

Mark began his career at Hewlett Packard as a Sales and Systems Engineer after receiving a Bachelor of Science in Electrical Engineering from University of California, Santa Barbara in 1981.

Mark is an avid competitive cyclist, amateur barista, photographer, technology geek, animal lover, and lifetime SF Giants fan.
Ted Taylor
Vice President
Ted Taylor is an industry veteran, with a career spanning 40 years in the installed Audio/Video systems and consumer electronics field. Ted began his career selling hi-fi for a nationwide retail chain in 1978 while attending college. He completed his first commercial audio installation in 1980 and custom home installation in 1981.

Ted founded Taylor Sound Installation in 1986, an Orange County based company, specializing in the design and installation of integrated audio/video systems in custom homes. Taylor Sound quickly established itself as a dominant AV contractor within the custom home community in the late 1980's and was a Founding Member in the then newly created CEDIA trade organization.
Read More
Taylor Sound was acquired by AUDIOVISIONS in 1994 and Ted became a partner in the business. Ted has had several management roles at AUDIOVISIONS in the sales and operational side of the business. Ted has deep knowledge and experience in virtually every area of the business, but he is at his absolute best when designing systems for his clients and working with the various trade partners to execute on large, complex projects.

In his personal time, Ted is an avid photographer and travels the world to capture rare and spectacular images of wild animals and landscapes. Ted also enjoys restoring and showing classic cars.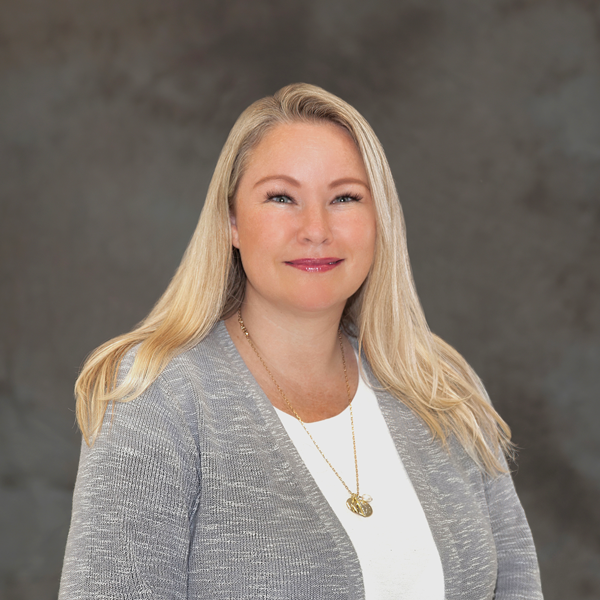 Ally Wagner
Director of Finance and Human Resources
Ally is the Director of Finance and Human Resources. Ally was initially hired in the Accounting Manager position. It didn't take long to discover Ally's additional skills in the Human Resources area as well as her leadership talent. Ally was asked to join the AUDIOVISIONS Leadership Team in 2020 and has made a substantial positive impact by leading the development of a standardized company-wide labor compensation program and a new, comprehensive benefits program. She also won AUDIOVISIONS Employee of the Year, after just one year at the company.
Read More
In her dual HR and Finance role, Ally applies information revealed by company financials to shape strategic efforts and company culture. Understanding how finance and HR intertwine, Ally is able to create outcomes that are a win-win for customers, employees and the long-term fiscal health of our company. Ally Wagner is an accounting management expert with over 16 years' experience in the high-end, residential construction industry. From 2004 to 2018, Ally served as the Accounting Manager for companies with multiple divisions and locations. She developed and led her accounting teams, while collaborating extensively with sales, operations, and executive management teams. In 2018, Ally launched her own business, and successfully navigated an acquisition to an industry leading firm.

Ally has earned her Bachelor's Degree in Business, with a minor in Technology and Innovation Management from the University of Washington, as well as an MBA from Concordia University, Irvine.

Ally lives by her Favorite Quote: "Success is peace of mind in knowing you have done your best" – John Wooden, acclaimed UCLA Basketball Coach.
Kristopher Peterson
Director of Sales and Marketing
Since his college days, Kris Peterson (KP) was destined for the AV industry. It all began as a part-time job, while studying architecture and mechanical engineering at Seattle Central College working weekends for a small mom and pop retailer, known then as Magnolia Hi Fi. That turned in to a 30-year run, helping to scale into 400+ of the Best Buy stores under the brands Magnolia Home Theater & Magnolia Design Center.
Read More
As Vice President of Magnolia Brand Strategy & Development he met with many emerging technology companies. One of those was a small startup music company in Santa Barbara, Sonos, where KP spent about 10-years, as Marketing Director for the America Pacific Region. After departing Sonos KP worked with audio manufacturer Sonance as Director of Retail and Brand Partnerships. KP joined Audiovisions in 2020 as General Manager of their Orange County and Palm Desert locations and was promoted to his current role of Director of Sales & Marketing.
Jeff Mitchel
Market Leader Bay Area
Jeff Mitchel is an audio-visual systems expert, with a career spanning over 35 years in the AV field. His career began at a local hi fi shop in 1985, where he worked while attending college. He quickly advanced with the company as it grew into a multi-location business. During this time, he took on many roles including sales and store management, brand management and district management.
Read More
In 1997, Jeff created the custom home installation division within this company and expanded it to cover all locations.

Jeff carried his AV expertise to AUDIOVISIONS, where he now leads the sales team in the Northern California market. For the past 12 years, Jeff's focus has been in business development, system design and account management for his market.

In his free time, Jeff enjoys being with his family, traveling, cycling, coaching lacrosse, and staying up to date with emerging technologies.

Favorite quote: "Code is where you start, not where you end." Robert Mitchel, Jeff's father.
Ryan Oerth
Director of Operations
Ryan started in the integration industry in 2004 and joined AudioVisions in 2007. At AudioVisions Ryan has held various engineering roles including company senior engineer. During this time Ryan also helmed many special projects, both internal and external, and helped with sales, training, and company growth. After taking on the position of Operations Manager in the Orange County market, that market experienced a jump in revenue, profit, and efficiency.
Read More
As the Director of Operations Ryan is focused on continued company growth by delivering incredible and intuitive systems to our clients and acting as a reliable and knowledge collaborator to our other building partners. Outside of work, Ryan spends time with his wife, two kids, and energetic border collie traveling and going on weekend adventures.
Sony CIS Diamond Dealer Award
2020 CEDIA Best Integrated Home Award

2020 CEDIA Technolgy Meets Design Award

2020 CEDIA Life Lived Best at Home Award

2017 Savant Pro Advisory Council Award

2016 Savant Pro Advisory Council Award

2016 Savant Chairman's Award

2016 Leon Preferred Dealer Award

2016 Crestron Elite Pro Award

2009 CEDIA Best Showroom Award

2008 Crestron Emerald Award

2006 Best Technical Design Integrated Home Silver Award

2000 CEDIA Best Special Project Award

2000 CEDIA Best Electronic Home Award

1999 CEDIA Electronic Lifestyles, Best Integrated Home System Award

1999 CEDIA Best Home Theatre $75,000-$150,000 Award

1999 ADA South-West Dealer of the Year

1999 CEDIA Electronic Lifestyles, Best Home Theatre Award

1998 CEDIA Dealer of the Year Award
AUDIOVISIONS was founded in 1989 during the infancy of the Custom Installation Industry by Mark Hoffenberg and Bob Walpert - two Engineers with a vision for the future of the installed home electronics market. Not coincidentally, 1989 also happened to be the year the trade organization CEDIA was founded by a small group of professionals dedicated to the advancement of the installed electronic systems industry.

With a focus on engineering, documentation and project management, Mark and Bob had a decidedly different approach to growing the business. Within a year of the company's formation, Hoffenberg recognized the need for industry specific business management software and led the in-house development of AV Wizard, the first business software application designed for and sold to the CEDIA market. The application gained 70 percent market share within two years of introduction. Two of the early adopters of AV Wizard ultimately became instrumental in AUDIOVISIONS growth. The first was Ted Taylor of Taylor Sound.

Taylor Sound was an early competitor of AUDIOVISIONS, and also an AV Wizard user. AUDIOVISIONS acquired Taylor Sound in 1994, and Ted became VP of Sales. As the company evolved its business methodologies, the software evolved with it, and AUDIOVISIONS quickly became one of the preeminent companies within the CEDIA channel.

Helping fuel that growth was a series of contracts with Virgin to design and install audio/video and control systems in their Megastores throughout North America. AUDIOVISIONS designed the first commercially viable CD listening station for the Virgin Megastore projects. Over the course of a decade, AUDIOVISIONS completed 26 Virgin Megastore installations and manufactured and installed more than 5,000 CD listening stations. With rigorous engineering and documentation, proper project management practices, and a talented staff, AUDIOVISIONS became known for its ability to deliver large scale, high performance systems, on time and on budget.

In 1997 Terence Murray joined the company as VP of Strategic Development. Terence had used AUDIOVISIONS software successfully at two previous companies and understood the value proposition. Terence founded our Northern California Operations in 1998. Terence also helped establish a "best practices" initiative with a number of leading integrators to define and implement common operating standards. These methodologies and business intelligences were subsequently integrated into the Company's 2nd generation Enterprise software called ProIntegrator "Pi", with a vision to help grow and improve the highly fragmented and underserved installed systems market.

After forming a business plan around the "best practices" initiative, Hoffenberg caught the attention of Best Buy. In November of 2005, AUDIOVISIONS was acquired by Best Buy. For the subsequent 9 years following the acquisition, Mr. Hoffenberg remained President of AUDIOVISIONS while also serving as Vice President, Services for Best Buy. Under the Best Buy umbrella, AUDIOVISIONS remained a boutique, client centered, technology integration company serving the high end of the market, while contributing valuable insight and innovation to the services arm of Best Buy.

In February of 2014, the AUDIOVISIONS executive team re-acquired the AUDIOVISIONS business unit from Best Buy. With this move, AUDIOVISIONS is uniquely positioned to best serve its current and future clients in a way that no one else can - AUDIOVISIONS has the passion and fire of an entrepreneurial startup, combined with the powerful experience and knowledge gained being an integral part of a Fortune 100 public company, topped with 25 years in business under the same leadership.

When AUDIOVISIONS was first acquired by Best Buy in 2005, virtually every employee stayed with the company after the acquisition. Nine years later, when AUDIOVISIONS bought the company back from Best Buy, virtually every employee also stayed with the company. AUDIOVISIONS is proud of that continuity, and the employees are their most valuable asset. AUDIOVISIONS' company culture has always been, and will always be defined by its people, its leadership, its passion, its dedication, and its unwavering commitment to its Brand Promise: Integrating Design and Technology to enhance and simplify its clients' lives.